Fort Worth Food & Wine Festival: Day 3 (Rise and Dine, Burgers, Brews + Blues)
Rise and Dine, the Fort Worth Food and Wine Festival brunch through to the Bust event, broke bright and early for those who had attended last night's After Dark Desserts but could for those of us who skipped the event Hadn't come early enough to see the Texas Rangers battle the Toronto Blue Jays on a rain-delayed cold front / Armageddon-like night (my son twists the Canadian in fandom) when the Dilly Dog didn't impress and high winds that Fireworks display at the end of the game.
Good thing there were some culinary sparks metaphorically illuminating the lobby of the Pier 1 Imports building. With temperatures in the (around?) 30s and the nasty wind still being kept in check, we brave the elements and were warmly rewarded with a decadent selection of sweet and savory offerings.
Cannon Chinese pork cone was rich and slightly flavorful.
Best weather-appropriate object: cannon Chinese must have a meteorologist on their staff. How can you understand the most perfect offering of pork? The boiling hot porridge was covered with pieces of pork belly, a small mound of spring onions and carbohydrate pillows called "Hong Kong waffles". Rich and slightly flavorful, it was the first thing I tried and I could have left happily at that point.
The best plate worth waiting for: For Rise and Dine it was the sweet potato tots from Enchanted Catering & Events, an overly generous bowl with tater that might be lightly fried and then topped with Italian sausage, bacon and an egg that was too light were combined. The aromas were herbaceous and finely nuanced and complemented each other extraordinarily. And whoever cooked this egg is my hero; The yolk was ridiculously runny.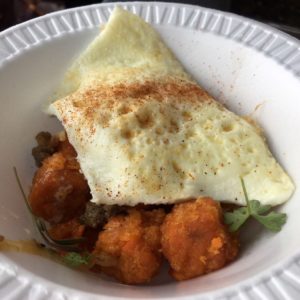 The sweet potatoes from Enchanted Catering & Event were deliciously nuanced.
Best implementation of a seemingly simple idea: Chef Jon Bonnell has turned this festival thing upside down. He's at four of the six events this year, but that didn't stop him and his crew from serving an irresistibly delicious concoction of fried quail and waffles. The quail was combined with an air-light waffle, crispy and hearty. And the raspberry reduction set was a sheer brilliance.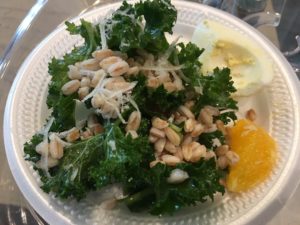 Cane Rosso's kale and farro salad reeked of clean food.
Best healthy dish that gently reminded you of your trousers stuck in shape: Cane Rosso offered a kale and farro salad that reeked of clean food. The light vinaigrette, garnished with a piece of hard-boiled egg and a slice of orange, stuck to the roughly hewn roughage in a tasty way. A friend's serving had a piece of pancetta, but unfortunately by the time I made it to the table things had gone a little wrong: my serving was even missing the egg yolk.
The only thing absent on Saturday night – aside from an odd no-show at Heim Barbecue – were the cute sundress / cowboy boot outfits and tricky polo / chino shorts at the Fort Worth Food and Wine Festival's most popular event, Burgers , Brews + Blues.
It was too cold for any kind of interlude. And so it was best to eat that dozen or so sliders on hand, have a beer or seven (in the free Rahr taster glasses), and get the hell out of the heart of the ranch in Clearfork.
At least that's what I did. Interestingly, however, it was as if the almost cold weather had an inverse relationship to the creativity shown. In the four years that I attended this event, I had never seen smoking that hot, or as my 10-year-old says, "Glows".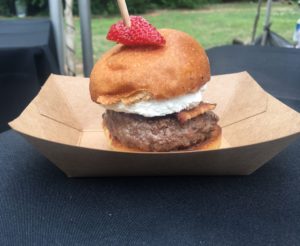 Hookers Grill and Easy Slider took home the biggest awards of the night – both judges and people awards.
The fact that there was new blood or fresh meat also helped: the beginners Hookers Grill and Easy Slider were impressed with their different attitudes towards the mini burgers. Hookers' sautéed onion patty was straightforward, but not for those avoiding bad breath, while Easy Slider took home the biggest awards of the night – both the Judge and People's Choice Awards.
About this burger: The Deep Ellum Food Truck won both awards because its offering was ridiculous, perfectly cooked, and moderately rare AND had a tried and tested blend of ingredients that supported the sweet and savory line. Jam on burgers isn't exactly my jam, but the canned strawberry here subtly compliments the smoky bacon and thick, half-melted platter of goat cheese. The well-seasoned Angus beef reinforced the process to the point where the entire slider, a beefy six-biter, – unlike my FWFWF MO – completely disappeared from my paper boat.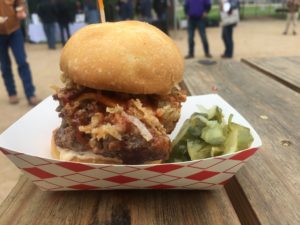 Rodeo Goats "Bodacious Slider was worth the mess.
The other burger to wait for while your fingers go numb: the perennial favorite rodeo goat serves a "bodacious" slider that is trademarked with fried onion strings and slices of raw jalapenos. It was a jawcracker topped with bacon, American cheese, and not one but two condiments – smoked jalapeno mayo and barbecue sauce – all of which made for a messy but blissful experience.
Best Slightly Boring Slider: Fred's Texas Café's Whiskey Bacon Jam Burger was solid, if not a little risky. Since the jam took up a back seat on the heavy weight of the slider, it was an unadorned simplicity.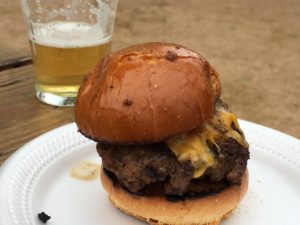 Fred's Texas Café's Whiskey Bacon Jam Burger was a low-risk but tasty deal.
Best Side Dish Use: The Tributary Café had a "French-inspired" slider topped with a French onion fondue so decadent that I wished I could drink it. Or, as I took a picture on Instagram, marry it.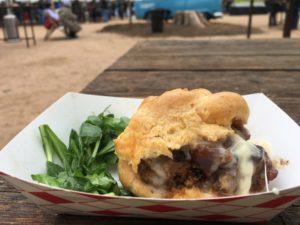 Tributary Café's "French-inspired" slider was topped off with a French onion fondue.